Bespoke Wooden Porches
We provide bespoke, hand-crafted porches made from high-quality green oak and Douglas Fir. Our stunning wood porch designs will transform the appearance of your home and create the most impressive entrance to welcome people in.
All of our Q-Mark porch kits are made-to-measure to suit your unique needs and are designed to be easy to assemble, coming fully joined with helpful installation instructions.
Browse our impressive oak porch designs to start building your bespoke kit or get in touch with our friendly team of professionals to discuss your needs. We can provide instant quotes and building time estimations over the phone.
Read on for more information on why our wooden porch kits are superior and how one can enhance your property.
The Benefits of Wooden Frame Porches
A porch added to the front door or any external door adds an attractive aesthetic touch. It makes the design of your property stand out with a truly unique aesthetic. When thinking about the external design of your home, the entranceway is one of the most important facets to think of.
Wooden porches in particular are wonderful for adding a welcoming touch to your home because of the material's classic natural beauty. Oak adds a lovely character to your home and fits with a traditional or contemporary look.
Frame porch kits provide this high-end look with the additional functional benefits of being easy to install and creating structures that stand the test of time.
Read on for the different design options available for oak framed porches.
Our Design Options for Wooden Porch Kits
We offer a number of beautiful porch designs which you can then customise with a wide variety of options. Look through our range below to be taken to our state-of-the-art virtual porch builder for each design type:
This is our most cost-effective option and is a best-seller. It's simple to fit and doesn't require groundwork.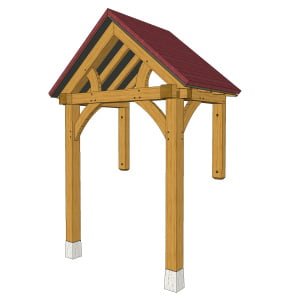 These porches rest on staddle stones, which lend a traditional aesthetic to modern design and makes them popular for newbuilds.
High brick plinth porches tend to be larger in size, allowing for a small log store or bench to be included on the internal wall.
They are especially suited to traditional farmhouses.
A low brick plinth porch can create a semi-enclosed area with optional mullions, railings or rendering.
These porches consist of four posts that sit on staddle stones and are therefore slightly more complex to install as you'll need pad foundations.
With this impressive virtual tool, you can create a bespoke porch built to suit your particular project and your desired dimensions. You can alter the degree of your roof pitch, choose the front truss you want, whether your front eaves beam will be straight or curved, and so much more.
This ability to tailor your porch to your property style is what makes us the premier choice for wooden porches.
Play around with the virtual builder tool to get design inspiration and a cost estimate, or get in touch with our team for free technical advice.
Our Timber Frame Porch Quality Assurance
Our premium design and manufacturing processes put us at the forefront of timber construction. Our methods are sustainable and our finished products adhere to our exceptionally high carpentry standards.
There are five facets to our practices that make us a cut above the rest:
We sustainably source our timber
We use the Quercus Robur and Quercus Petraea species of oak, which deliver consistently excellent timbers. The oaks are allowed to grow as straight and as tall as possible so more can be used in construction and less is wasted. For each tree cut down, we ensure another three are planted in its place.
The timber is thoroughly graded
Our rigorous visual checks and grading system ensure the complete structural integrity of your oak framed porch kit. All of our timber graders are highly trained in finding even the tiniest flaws so that only the finest timber is used in your kit.
Precision-cutting is a guarantee
We use state-of-the-art technology to ensure that we produce precise green oak beams for your kit. This quality assurance means that every piece of timber will fit into place seamlessly when you come to build it, allowing you an easy assembly process.
All of our products bear the Q-Mark
You are getting only the highest quality porch kit when you buy from Oak Frames Direct. We are one of the only oak trading companies in the whole of the UK that supply Q-Mark products.
Our prices are competitive
The sustainable oak species we use allow us to utilise even more of the tree which brings costs down. This, combined with the high-quality kits we produce and the easy assembly we provide, means that our prices are very fair and very competitive.
WANT TO SPEAK WITH AN EXPERT?
We supply a wide range of oak frames all across the UK.
Get a Custom Quote on a Beautiful Wooden Porch Kit Today
If you're looking for the highest quality wooden porches in the UK, look no further than Oak Frames Direct. Our years of experience in sourcing, grading and constructing with timber make us the number one choice for bespoke oak framed kits.
Get your instant quote today on your bespoke design and you can have your beautiful wooden porch built and delivered to you with our quick, hassle-free system. With kits designed for easy assembly, your stunning porch will be up in no time at all.